Why Sample Engines
By analyzing a used engine oil sample, you can determine the amount of contamination, the wear rates and overall condition of your engine. The real benefit of an oil analysis program is that it acts as an early warning system, alerting you to a potential engine problem such as a fuel or coolant leak. Representative oil samples are vital for engine oil analysis.
Viscosity or soot readings can be misleading if a sample is taken from the oil pan drain and after the equipment is shut down and particulate settles. Vacuum samples using tubing do not draw samples consistently from the same location. Fuel, which dilutes the viscosity of the oil, tends to rise nearer the top of the reservoir when the engine is shut down. Water or coolant, which has a viscosity denser than oil, along with soot will collect near the bottom of the reservoir. So when drawing vacuum samples, for instance, you could miss soot from sampling too close to the top.
Sampling active lubricant through a valve while the engine is idling mixes the oil and gives a data rich sample. This is critical when a 3 oz (75 ml) oil sample must represent 0.2% of the approximately 11 gal (50 L) capacity of a highway truck engine. A sample taken through a sampling valve while the engine is running is best practice. It mixes the oil to give a data rich sample that can be consistently trended for comparisons for that engine or for that engine within the fleet. Read more about Engine Oil Analysis
How to Sample Engines - The KP Pushbutton
The KP Pushbutton valve is a highly economical sampling valve for engine sampling. When installed into an existing pressurized engine port, the KP will typically draw a 3 oz (75 ml) representative oil sample in less than 20 seconds - with just a push of a button. Compare that to a vacuum drop tube sample which takes on average 20 minutes. The KP Pushbutton automatically shuts off when released, without a drip. The built-in probe reduces the cost-per sample, significant over time, and reduces the risk of cross contamination with other engines or systems like coolant. Check Out This Case Study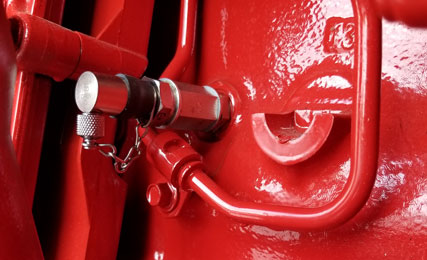 Above image shows a KP1415MV direct install in a Cummins ISX Engine
Its spout rotates 360 degrees to better position the sample bottle and can allow for even one hand sampling. The rotatable button avoids installation of a swivel adapter otherwise needed to position the spout. With a wide variety of threads available, the KP can be installed compactly in engine compartments. However, often in engines it is necessary to route a high-temperature engine hose to a outside location often on or near the frame rail to conveniently draw the sample. See below for frequently recommend sampling kits or KP part numbers.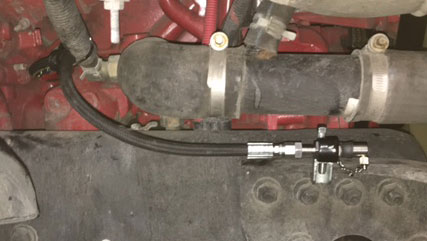 Above image shows the KP Remote Access Kit installed in a Cummins ISX Natural Gas Engine
Other KP options include a silicone button pad. The button pad is great to make sampling more comfortable when dealing with hotter temperatures. The KP's locknut option allows for the button to be tightened to reduce any movement. This feature is useful when installing the KP into engine compressor ports as they sometimes generate higher vibration levels. However, most KPs are commonly installed on either on the oil filter housing or oil gallery. The locknut can also prevent the accidental opening of the button if that is a concern.
The environment the valve will be in is another consideration. Road salt or marine environments can rapidly corrode steel parts. The KP's carbon steel parts are plated with an advanced zinc nickel plating to reduce this corrosion. However, a lower cost hybrid stainless steel/brass combination KP can further reduce this risk in these environments.
Frequently Recommended Engine Sampling Kits
We have developed commonly recommended KP or KP Kits for difficult to access engine ports.
If the best sampling port is readily accessible, a direct install will be recommended. If the port is not directly accessible we will recommend a remote access solution which uses a hose assembly to extend from the port to a location it can be mounted. Not all our engine solutions are listed below. If your engine is not on the list give us a call or email us
Didn't see your engine in the chart? Give us a call or click here to learn how to find the KP for your truck